5 Reasons to Study the Bachelor's Degree in International Hotel Management at Anáhuac Cancun University
Publicado por Anáhuac Cancun University el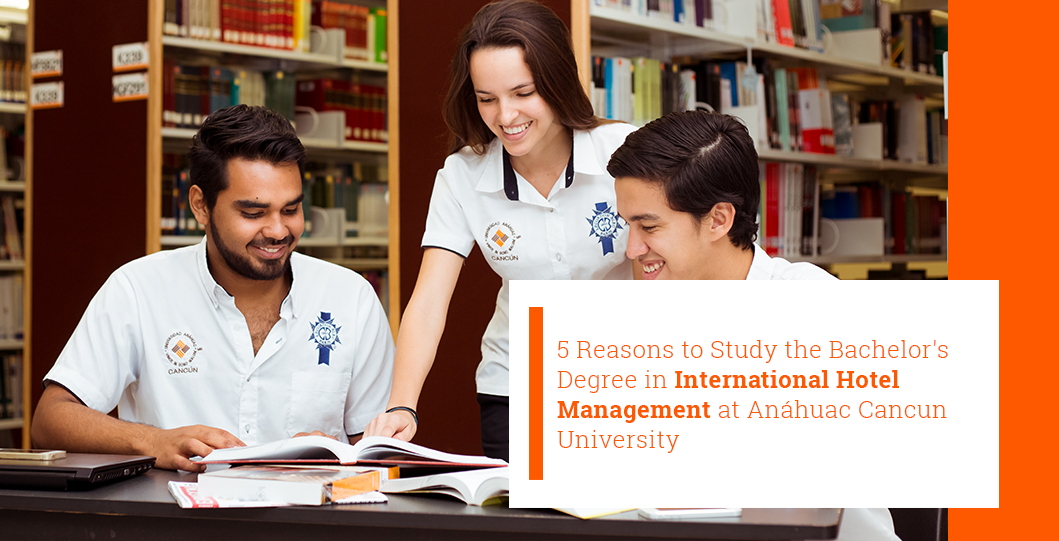 The increase in the hotel industry in the last 15 years has become a fundamental part of several countries' growth and economic development. Being part of the hospitality industry professionals will help you develop in management areas, obtain service skills, be an expert in food and beverage management, and interact with other cultures.
The Bachelor's Degree in International Hotel Management at Anáhuac Cancun University offers a strategic, multicultural, and human approach to developing management skills, leadership, and the creation of new businesses. As a student you will be able to make decisions based on the analysis, formulation, and evaluation of projects in the hospitality industry.
In addition, the Bachelor's Degree in International Hotel Management provides you the tools to create independent projects related to the tourism sectors in national and international destinations.
Therefore, we present to you 5 reasons to study for the Bachelor's Degree in International Hotel Management:
You will have the opportunity to socialize with people of other nationalities and, at the same time, potentiate your persuasive skills.
High professional demand:
The hospitality industry is one of the industries with the most remarkable expansion in recent years, so the high demand generates a more excellent supply in the labor market. It is the industry with the most outstanding employability for recent young graduates.
Openness to international possibilities:
The hospitality industry is currently full of challenges, and different scenarios, so combining work with travel will help you potentiate your industry opportunities.
Knowledge of multiple languages:
Practicing one or more languages while you develop in the workplace will provide you with the skills you need to be able to work in any country you choose, making you a multicultural citizen and leader.
You will be able to enjoy the benefits of Anáhuac, where you will live the experience of studying at the International Campus of the Anáhuac Network. Also, you will obtain a dual degree, one from Anáhuac University and a European degree from Le Cordon Bleu de Paris.
In addition, you will be part of a university community with more than 42 nationalities, and you will receive accredited and comprehensive academic excellence and personalized attention.
A graduate in International Hotel Management from Anáhuac University will be a professional searching for the truth, trained with international academic parameters, human values, ethics, and social commitment. They will be able to recognize the needs of the hotel business sector by communicating and offering solutions that promote innovation and competitiveness in the development of the hotel and hospitality industry through the understanding of the global market with a strategic, multicultural, and human approach.