5 reasons to study the Bachelor's Degree in Industrial Design at Anáhuac Cancun University
Publicado por Anáhuac Cancun University el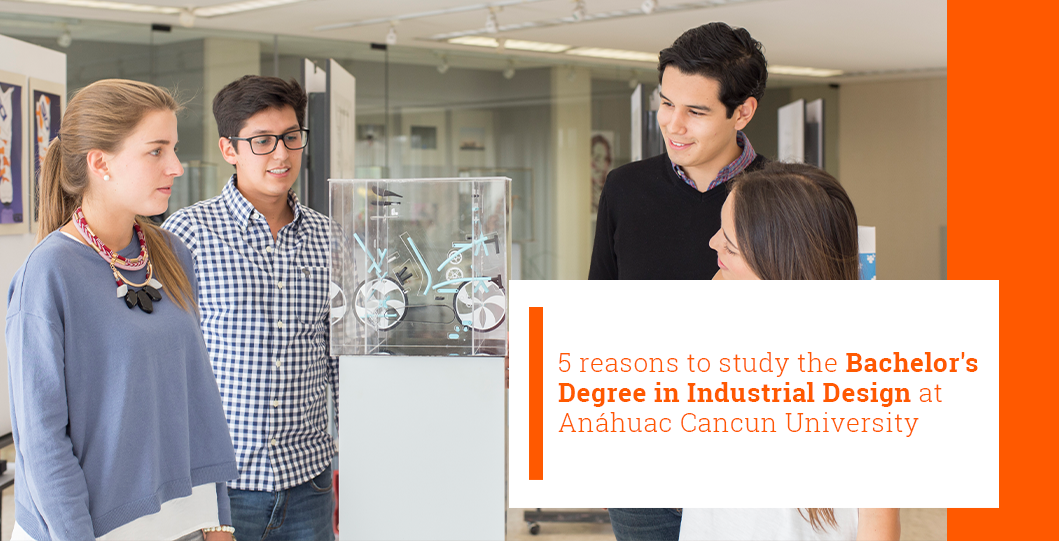 Have you ever wondered why it's so comfortable to hold a glass of Coke? Or wanted to toast the person who invented the recliner? Read on to learn how unique the Bachelor in Industrial Design is.
Studying for the Bachelor's Degree in Industrial Design at Anáhuac Cancun University will allow you to learn from a methodology based on problem-solving. With a clear notion of the techniques and plastic and constructive design strategies, covering the complete management of projects. From an aesthetic perspective to the solution of ergonomic and functional needs, always with a sustainable, ethical, and humanistic perspective, the user is the first benefit axis.
So, if you are an astute person with imagination and a passion for creating, here are five reasons to study the Bachelor Degree in Industrial Design and become an International Positive-Action Leader:
An extensive field of work:
Many industries rely on industrial design to keep innovating their processes and products. For example, the Mini Cooper, the Bubble Chair, and the Clip pen are all industrial design products. Other sectors include the toy industry, interior design, food, cosmetics, construction, sports, etc.
There is room for an industrial designer where there is a production line!
Highly collaborative work:
If you enjoy working in a team, the discipline of industrial design may be proper for you. It is common for several different minds to collaborate on projects; this facilitates the development process because the problem or product is analyzed differently. In addition, each person brings unique skills and knowledge to the design process.
You will exercise your divergent thinking every day:
Divergent or lateral thinking is developed by exercising creativity and solving problems in innovative and unconventional ways. This thinking is one of the significant challenges facing the industrial designer, whose job is to create or reinvent products helpful to people, making their use a memorable experience.
You will learn from different disciplines:
Industrial design involves knowledge from different disciplines, mainly graphic design, architecture, and engineering. However, depending on the sector in which they work, the industrial designer coexists and becomes familiar with other disciplines or sciences, such as chemistry, gastronomy, art, among others.
You will be able to enjoy the benefits of Anáhuac, where you will live the experience of studying at the International Campus of the Anáhuac Network. In addition, you will be part of a university community with more than 42 nationalities, and you will receive accredited and comprehensive academic excellence and personalized attention.
You may not know it, but many of our favorite objects exist thanks to industrial design, and behind every iconic product, there is an enormous work of creativity and intelligence.
For these reasons and more, Anáhuac Cancun University is your best option to study for a Bachelor's Degree in Industrial Design. Are you ready to become an international leader of positive action?