5 Reasons to study the Bachelor's Degree Environmental Engineering at Anáhuac Cancun University
Publicado por Anáhuac Cancun University el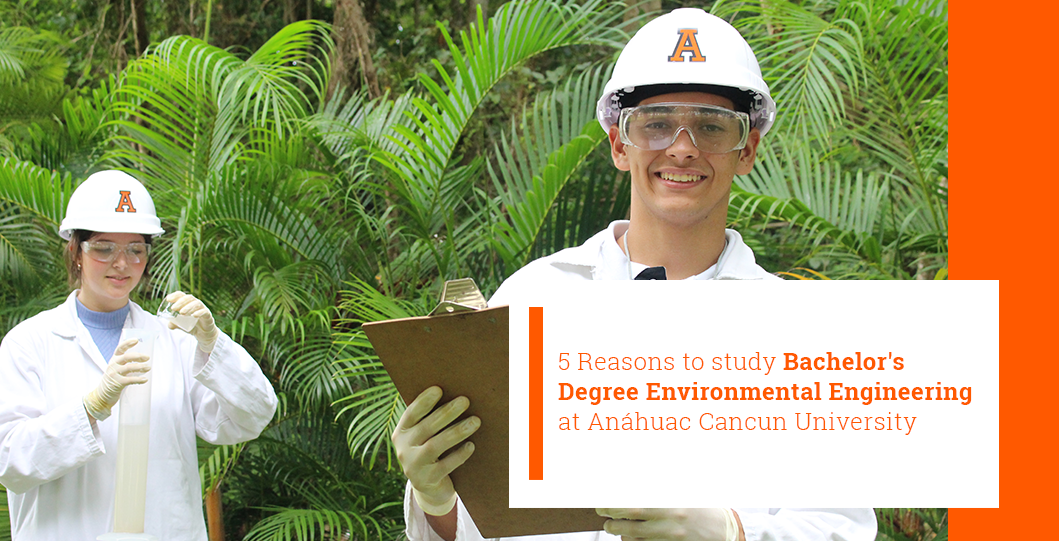 Globally, Mexico is one of the two countries that volunteered to present their progress on the Sustainable Development Goals of the 2030 Agenda.
The 2030 Agenda is a roadmap with goals aimed at government, business, and civil society, to protect the planet and ensure a good quality of life for all without compromising the resources of future generations.
That is why government regulations, corporate responsibility, and pressure from society have been increasing in recent years. And that is where Environmental Engineering contributes with concrete actions to achieve the goals of Agenda 2030.
Why study for the Bachelor's Degree in Environmental Engineering at Anáhuac Cancun University? We will give you the necessary tools to transform the world based on science but always putting people and the planet first. The following are reasons for you to decide to be part of this transformation project:
Quintana Roo has a strong economy based on its natural resources:
Quintana Roo's beaches are among the first places with international Blue Flag distinctions, which rewards those destinations with "excellence" in environmental management and handling, environmental education, and water quality.
Our state has cutting-edge legislation to reduce waste generation and promote the circular economy. In addition, you will be part of an institution with the Socially Responsible Company distinction granted by CEMEFI, demonstrating its commitment to community development and environmental protection.
You will be part of the essential ecosystem of social responsibility and environmental protection in Mexico:
You will be part of an exemplary society in social responsibility that bases its economic growth on the care of natural beauty. Together with professionals from other disciplines, researchers, and social leaders, you will participate in sustainable innovation projects that solve real problems in society.
You will be able to develop your skills:
You will conduct environmental impact studies to determine the impact of production processes on the community. You will learn to design, implement, and manage water and solid waste management operations. You will direct optimization projects and alternative energy production within a company to minimize the impact on the ecosystem.
One degree. Different positions:
A degree in Environmental Engineering will open up the possibilities of holding different positions in different sectors. You will work in environmental, social responsibility, or socially responsible companies. It will allow you to work or create your environmental consulting firm. You can work in public service to design laws, regulations, or norms that regulate the activities of the productive sectors.
You will have access to countless benefits that Anáhuac Cancún has prepared for you. Such as joining leading companies, actively participating in important public and civil organizations, or taking advantage of the technological advances of other institutions and research centers.
Upon graduating with the Bachelor's Degree in Environmental Engineering at Anáhuac Cancun University, you will analyze and understand the functioning of natural systems from a vision of social and environmental responsibility. In addition, you will be able to diagnose the impacts generated by human beings.
For these reasons and more, take control of your destiny and study for a Bachelor's Degree in Environmental Engineering. Then, join the international leaders of the positive action community at Anáhuac Cancun University.