5 Reasons to study the Master's Degree in Development and Management of the Entertainment Industry at Anáhuac Cancun University
Publicado por Anáhuac Cancun University el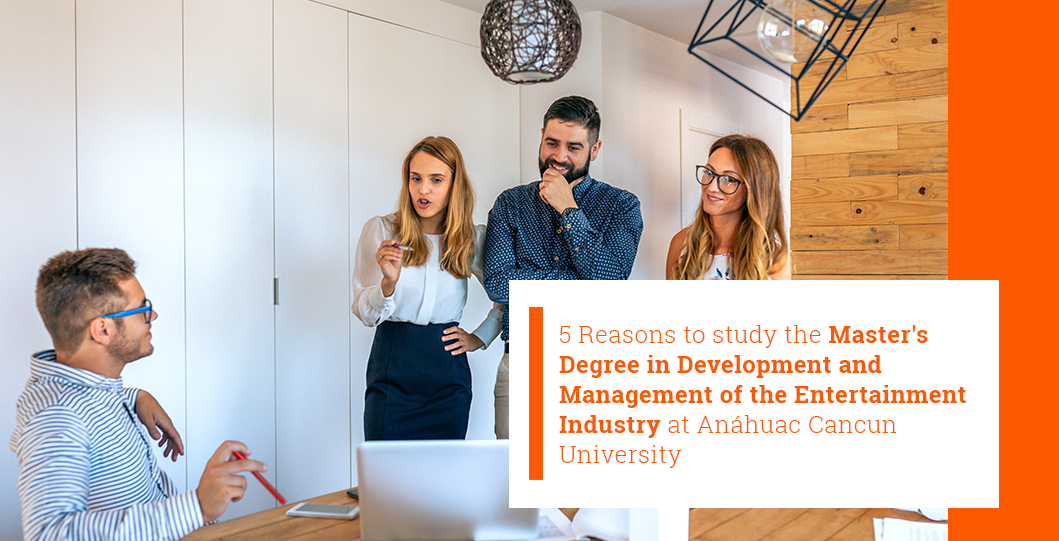 Studying the Master's Degree in Development and Management of the Entertainment Industry at Anáhuac Cancun University offers you specialized professional training with theoretical and practical knowledge. According to current trends, the skills and abilities allow you to design, produce, and manage innovative strategies and projects aimed at the entertainment business.
For this and more, we present you five reasons to study the Master's Degree in Development and Management of the Entertainment Industry at Anáhuac Cancún University
You will manage the operation and direction of innovative, creative, and quality projects that give rise to new businesses. You will create tasks in complete correspondence with the media and transmedia appropriate to the different types of entertainment in the world, attending to legal requirements.
You will be one step ahead:
You will be capable of preventing problems through effective and assertive management of public opinion and knowledge of audiences. You will use marketing techniques, tools, technologies, digital platforms, and budgets in entertainment projects.
You will have a positive impact on your society:
You will design and propose marketing and commercialization strategies for sustained entertainment business projects that positively impact society and respond to its characteristics, needs, and behaviors.
You will analyze and research trends in the entertainment industry within a global context to understand and have information that will allow you to take advantage of their potential and generate new proposals.
Endless benefits at Anáhuac Cancun University:
You can enjoy the benefits of Anáhuac, where you will live the experience of studying in an international campus of the Anáhuac Network. You will be part of a university community with more than 42 nationalities. You will receive accredited and comprehensive academic excellence and personalized attention.
For these reasons and more, Anáhuac Cancun University is your best option to study the Master in Development and Management of the Entertainment Industry. Are you ready to become an international leader of tomorrow's positive action?